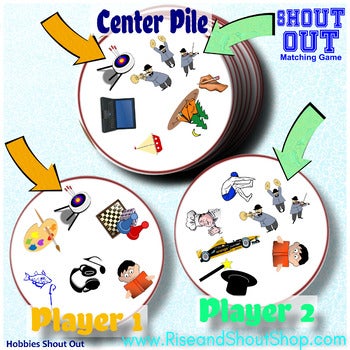 Easter Shout Out: A Spot the Match Game
On Sale
$5.00
Race to spot matches in both Shout Out and I Spy. Fun for preschools to teens (the pace just increases). Shout Out Game comes with cute printable boxes to store games. Perfect for church schools, Sunday School and home use. Includes both religious (crosses, palms, church) and secular images (eggs, baskets).
Download your
FREE Mini School Shout Out game
Skills Focus
Analytical skills
Memory
Vocabulary,
Articulation
Counting (in I Spy)
Included
31 cards in 2 sizes (3" or 5")
2 optional backings
Image Key (chart with all images labeled)
Instructions (includes assembly directions and 'how to play' instructions.)
I Spy Game Sheet and answer key
Total of 3 PDF documents in 1 ZIP file
Images Included (31 images total):
Easter eggs, bunnies, baskets, crosses, tomb, crown of thorns and more.
How to Play
To learn how to play, click
here
.
Game Assembly
Making the game is simple -- print, cut and play.
Print out front of cards (6 pages) Print in color or black and white. I like to use cardstock to increase durability. If they will be used frequently, then I also like to laminate.
Print desired backing
Cut: use 3" circle punch for circles. Use scissors or paper cutter for square shape.
Play!
Important Note
To learn more about our digital games and how you are allowed to use them, click
here
.
All images and fonts used with CU license and permission.