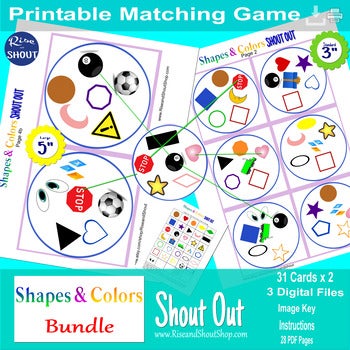 Shapes and Colors Shout Out: A Spot the Match Game
On Sale
$5.00
Whether teaching a preschool child or a student learning ESL, Spanish, French, German or another foreign language their shapes and colors, this game provides a quick and fun method to learn and review colors and shapes. Perfect for filling in those spare minutes at the end of a lesson, or a quick family game. Although the pictures help teach, the challenge of finding your match first and Shouting Out keeps children and adults of all ages laughing and playing.
There are 31 shapes of different colors in the deck, 6 images on every card. Each card has one, and only one, match with every other card. (Amazing!) Find your match first and Shout Out. Player to find the most matches wins! (Detailed game play below.) Perfect for centers, individual desk time, free play or use for learning foreign languages.
Download your
FREE Mini School Shout Out game
Skills Focus
Language-vocabulary acquisition
Included
31 cards in 2 sizes (3" or 5")
2 optional backings
Image Key (chart with all images labeled)
Instructions (includes assembly directions and 'how to play' instructions.)
Total of 3 PDF documents in 1 ZIP file
Images Included (31 images total):
Circle, square, triangle, rectangle, heart, star, crescent in red, yellow, orange, green, blue, purple, black and brown. Some shapes are common objects like a stop sign, moon, ball, and more.
How to Play
To learn how to play, click
here
.
Game Assembly
Making the game is simple -- print, cut and play.
Print out front of cards (6 pages) Print in color or black and white. I like to use cardstock to increase durability. If they will be used frequently, then I also like to laminate.
Print desired backing
Cut: use 3" circle punch for circles. Use scissors or paper cutter for square shape.
Play!
Important Note
To learn more about our digital games and how you are allowed to use them, click
here
.
All images and fonts used with CU license and permission.